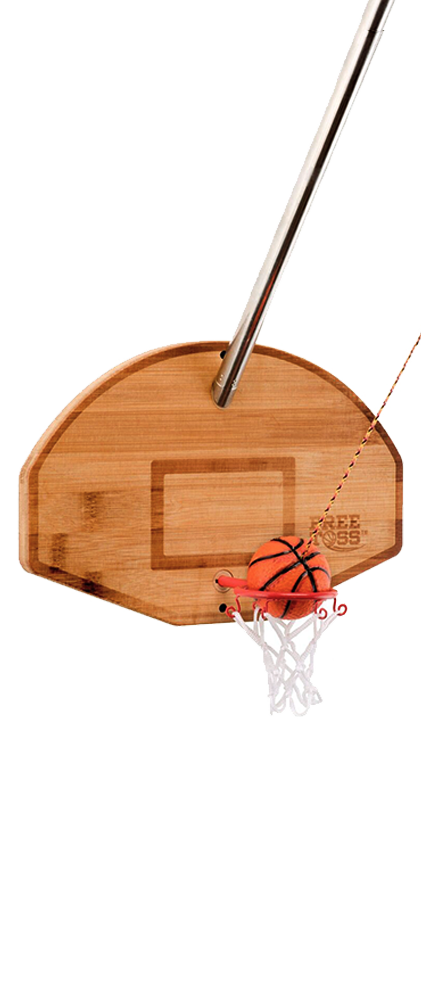 Free Toss Deluxe (Basketball)
Bring this classic Island hook-and-ring game home and enjoy endless fun while testing your skills. Great fun for all ages.
Crafted from 100% Bamboo, big up the environment & post indoors or out.
Get hooked up in a few minutes, all hardware and easy setup instructions included.
No Overhang, No Problem! Deluxe versions include a 5' telescoping pole (stainless steel) that inserts seamlessly into the backboard. The telescoping pole includes a builtin cord lock for ease of set up and adjustment. Eliminating the need for an overhang means that Tee Toss can always be mounted in the perfect spot. Add on Camp-Ready Straps or Tailgate Suction Cups to enhance portability. Bring tailgating, camping, parties, beach - Play Anywhere!
Hoops anyone? Swing the basketball to score some points! The same addictive and rewarding play pattern as Tiki Toss, but now we're playing ball. For the basketball fan and anyone who loves games in general. Step up to the line!
Everything included to set up and play in 5 minutes. 100% bamboo backboard. Quick Connect Hoop, net, Basketball with connected string, mounting screws, eye hook and cord lock. An Official Tiki Toss Product.