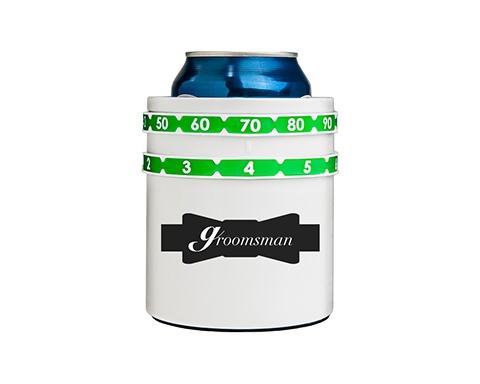 Groomsman Golf Scorzie
The perfect gift for your wedding party.  Research shows that having a score keeping koozie for your bachelor party or wedding night games creates more fun and great conversation on how to use them in different ways.  We've heard it all from keeping track of your drinks, how many drinks you have bought vs how many have been bought for you, how many waters you have vs adult beverages, how many people start the wedding festivities vs how many actually make it home.  You get the point....countless uses besides actually keeping score of your golf game. 
The Golf Scorzie™ is the original scorekeeping beverage holder, and the only way to keep an honest tally and a cold drink for all your golfing needs.  It can be used for keeping your total score, strokes per hole, greens in regulation, fairways hit, as well as any side games that you and your buddies are playing.  Throw the pencil away and keep your beverage cold and your score in hand at all times. 
High quality foam insert to keep your drink cool

Score rings that click into place to keep an accurate score from 0-129

Add the top and bottom rings for your total score (if the top ring is on 50 and the bottom 5 then your total score is 55)

Durable polycarbonate body to protect your beverage 

Foam-lined bottom to prevent slipping and scratching